Collision Center of Dallas, TX | All American Collision Center
Welcome to All American Collision Center. We have been serving the DFW community for collision repair needs since 1962. 
Certified & Experienced Technicians & Staff | Dallas Collision Repair
Our technical staff has an average of 20 years of industry experience and participates in continuous education programs to maintain certifications and develop new skills. We specialize in domestic vehicles and imports such as, Honda and Toyota. We are Honda Pro-First Certified for both Honda and Acura vehicles. Being a certified facility is important when it comes to factory standards and access to structural parts. 
Our highly trained Estimators here at All American Collision are dedicated to assisting you through the repair process. They are also experienced in working with all insurance companies. 
Being involved in an accident can be a painful and frustrating experience. No one plans for it to happen and are never fully prepared when it does. Our Estimators deal with this every day and know how to minimize the added stress of dealing with the insurance company and processing the repairs. We are a Direct Repair facility with several insurance companies, which allows us to get started on the repairs faster. During the repairs our Estimators keep the customer updated on the vehicle through the repair process and are available to answer any questions the customer may have.
Our Facility at All American Collision Center in Dallas, TX
The All American Collision Center houses a 75,000 square foot repair operation. There are 52 repair stations dedicated to the structural and cosmetic repairs necessary to restore the vehicle to its condition prior to the incident that caused the damage.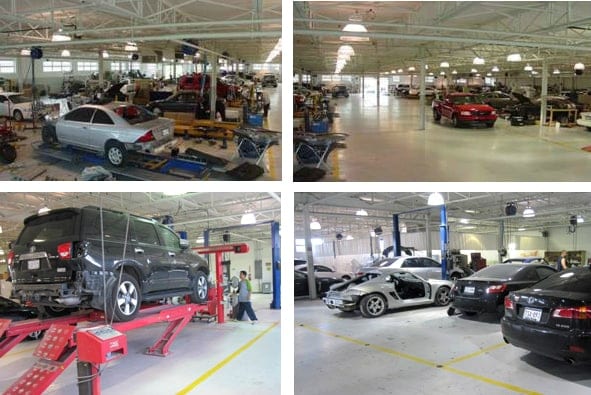 Once the structural and metal work is completed it is prepared for painting. Since we offer a lifetime warranty, each vehicle is meticulously inspected and prepared before being painted.

When the vehicle is ready for painting it is moved to the paint area where there are 10 booths available. Paint codes are identified and matching colors are mixed for every vehicle. Professional and experienced painters ensure that the proper level of paint products are applied to achieve a factory finish.


Once the vehicle has been painted it is taken to the Buff and Detail area. The vehicle is once again inspected for imperfections in the paint finish. All painted areas included in the repair must pass the inspection or have the discrepancies corrected before moving to the final detail. These activities occur in an area exclusive to this activity to ensure quality results. This is also the time in the process when final assembly and trim work is completed.



Throughout the repair process there are quality checks. Each quality check ensures that the vehicle is ready to move onto the next step. When the vehicle has passed through all the repair stages, it goes through a final Quality Inspection. No vehicle is delivered to the customer until it passes this inspection. The vehicles mechanical and electrical functionality is inspected along with its fit and finish. When the vehicle is ready for delivery it is stage in the climate controlled delivery area.

The entire facility is safeguarded with 24 hour security to protect the customer's vehicle from the time it arrives to the day it is delivered.
Onsite Car Rental Services at All American Collision Center | Dallas, TX
As a convince to the customer we have an onsite car rental office with an ample supply of vehicles available.
Even though we work to expedite the time the customer spend waiting, we have a comfortable lounge area with TV, Wi-Fi and refreshments. Our restrooms are clean and equipped with child changing stations. Customer parking is conveniently located and covered.